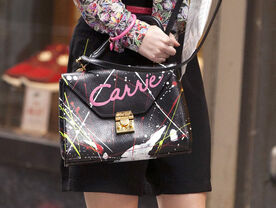 Carrie's purse is an item which carries much emotional significance to her, mainly because it once belonged to her mother .
The purse, orginally belonging to Carrie & Dorrit's mother, was once plain black. After their mother passed away, the purse was given to Carrie.
The purse gets its more recent decor after Dorrit, after stealing the bag from Carrie, placed it inside a teddy bear filled with various stolen items where a bottle of white nail varnish spilled over the bottom of the purse.
After originally being mad at Dorrit, Carrie decided to view the situation with more optimism and ended up splattering green, red and white nail varnish onto its front, while painting a pink "Carrie" to give it personal flare.
The purse was unfortunately stolen in Win Some, Lose Some  when Carrie sets her bag on the ground in front of a club to find a paper. She then stands up only to realize it is gone and tells everyone around her and even the police that her "Carrie Purse" is gone. She feels better after talking with and befriending the bouncer of another club, and cousin of Donna , Samantha Jones. The purse is later seen only by the audience when Carrie and Samantha unknowingly pass a lady wearing the purse.
Ad blocker interference detected!
Wikia is a free-to-use site that makes money from advertising. We have a modified experience for viewers using ad blockers

Wikia is not accessible if you've made further modifications. Remove the custom ad blocker rule(s) and the page will load as expected.